Google Ad Planner – A Detailed Look
I've been wanting to try the new Google Ad Planner for some time now, since I have clients who utilize PPC advertising. Thankfully, I didn't have to wait long after signing up for the beta before I was granted access to the service, so I have been able to put together this simple intro and basic how-to guide. If you have questions about this post or about Google Ad Planner or if you'd like for us to setup and maintain your media plan, I'd love to help you get started. Contact me today.
Google Ad Planner was designed as a free media planning tool as it relates to advertising. Large corporations and advertising agencies use media planning tools with detailed and sophisticated data to formulate plans for their clients. This new tool from Google ties in data from their search results, anonymous Google Analytics data and anonymous opt-in data from third party resources to give the same tools to small and medium businesses.
The first thing you'll notice when you log into the Ad Planner is that you have two options. You cna either start researching or you can create a media plan. Since we'll cover the researching phase as part of creating a media plan, I went ahead and started to put together a plan for a fictitious company, Good Guy Realtors. 
So the first step in the process is to name your media plan:
Click on 'Create Media Plan' and give it whatever name you'd like and click 'Save'.
This will bring you back to the main screen. Next, you'll perform some research, so go ahead and click on 'Begin Research'.
You'll be brought to a screen that several search options for you to choose from. In the sidebar of the page, you have filtering options including the ability to filter down to gender, age, education, household income and keywords. For instance, for Good Guy Realtors, I wanted to filter down to websites that had some element of real estate on it since I don't want to waste my advertising dollars on anything outside of real estate.
Once I have the filters focused on the demographics that I want, I can then use the main pane of the screen to choose the websites that I want to focus on. In this section you'll notice the following columns:
Site name: This is usually the url of the website 
Category: This is a generalization of the overall category of the website. Note: At first glance you might think that this has to relate to your desired criteria. This isn't always the case. For example, Yahoo has a category of 'Web Portals' but they also focus on real estate, jobs, personals, music, shopping and more. 
Comp Index (or composition index): This is the concentration of the audience relative to the entire country. Because you are filtering down by country (US by default). For example, say that you are looking for men ages 18-24. If you returned a comp index of 200, it would mean that you are twice as likely to find men between the ages of 18-24 on that site than you are elsewhere on the internet in that specific company.
Reach: This is a number calculated by Ad Planner that tells you the estimated total percentage of internet users you can reach on this site that match your demographic.
Unique Visitors: This number reflects the total number of visitors within your demographic on that website. This number changes with the changes in the demographic.
Unique Visitors (Country): This reflects the estimated visitors within that desired country for the website.
Pageviews: Total number of pageviews for that website within the last 30 days.
Formats: If a website offers advertising through Google Adwords, then this column would show the types of ads that the website could display. Note: A website doesn't have to participate in Adwords for you to get the benefit. For instance, many websites use a third party ad network or require you to contact them for ad rates. Hovering over an icon in this column will display a list of ad sizes available for that ad format.
Imp/Day – This number reflects the total number of ad impressions per day on the participating website (if they display ads through Google Adwords)
In addition, you have a few more detailed statistics available to you for each website. You can view these statistics by clicking on the graph icon next to the url of the site in the 'Site Name' column. These additional statistics break demographics such as household income, age range, gender percentages, related sites and more. This detailed information also includes complete ad size information for the various ad formats as well.
The next step (once I had my demographics chosen) was to select the websites that I wanted to add into my media plan. In the main panel, check the box next to the websites you are most interested in. Pay special attention to the data that Ad Planner gives for each website. For instance, I prefer to look at the Comp Index info (notice the ones in the screenshot below are close to 200 or more).
Once you have those sites paired down, you can then add it to the media plan. To do this, simply click the 'Add to Plan' button, choose the media plan and that's it. You can then access the stats for your media plan choices by just opening up your media plan.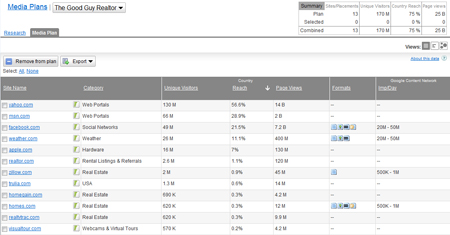 Once you have your media plan created, you can then export the plan contents into two formats. One format exports as a standard csv file where you can copy the urls of the websites desired into
Adwords
. The other format allows you to export a plan that you can then import into DoubleClick's MediaVisor software (another company owned by Google).
So, in a nutshell, that's it. It's a simple tool that can help you research and create a simple media plan that you can either use on Adwords (if the website participates), DoubleClick's MediaVisor, or in another online media campaign. 
The Ad Planner is a small package, but with big power. If you'd like help with your ad planning, or would like us to setup and maintain your media plan,
contact me today
.
Comments
6